faith and aporia...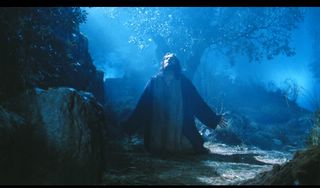 Aporia in Gethsemane...
Why our insatiable need for reasons and justifications when things don't go our way in life?
"God allowed this to happen…so I will learn such and such a lesson (blah,blah,blah)". Do we need such explanations to make us feel better? To console ourselves?
What if, the world is harsh, bitter, unrelentingly unjust? What if Nietzsche is right, that all of life is just the will to power, the domination of the strong over the weak? Morality is just our way of consoling ourselves, that the good guys will win in the end, that somehow our suffering would count for a greater good? What if there is no vindication at all in this world or the next? Can we not stare straight in the face of pain and suffering, and not try to explain it?
Contrary to popular belief and all the cheap slogans about 'Jesus is the answer', what if Christ is the troubling question, the One who provokes, the one who stirs up a controversy, who confronts our complacency and heartlessness in a tragic world?
Jesus is no simple answer, a nice finishing tag-line to all man's troubles and problems… He unsettles our way of living and doing things… He did not explain and give easy answers to the problems of humanity… He got involved… He become one with the oppressed and hopeless… His was a most magnificent defeat… The death of an insignificant rebel in the backwater of the Roman Empire… His story is meant to be forgotten. The victim or loser has no voice. Rome and Jerusalem of the priests are those meant to write history… Still his story got out…under the very noses of powerful enemies…
Why this proclamation that a helpless, poor carpenter from Nazareth, a death-row prisoner killed for treason, that he is really the King and Lord of The World, and not Caesar? Isn't that strange? A prisoner, judged and killed as a terrorist, is the TRUE King over every nation on this earth?
His was a tragic end… Vindication came as a surprise… Resurrection was not some pre-programmed victorious end we just take for granted, as if it was inevitable… It was an absolute surprise… To be a Christian, to be fully human, we need to linger and experience the depth of that tragedy, that sense of meaninglessness, that dark Saturday, just after the tragedy of Good Friday, not knowing that Easter Sunday might come…
Why do we live as if everything is nice and tidy, refusing to come to terms with our messy existence and intransigent vulnerability? Some things can never be undone, the scars and wounds are permanent... No amount of prayer would change that… Even the Son of Man did not get his prayers answered near the end of his life. We savor the crown without the cross, the victory without the darkness… We want Easter Sunday, without Good Friday and the unsung Saturday, when Christ lies dead in the tomb and the disciples despondent in their defeat…
We did not learn lament, how to mourn or weep… only positive thinking, steps to become successful Christians and the so-called 'claiming the victory of Christ'…
Why our quick diagnosis and reasoned declarations about what was "God's righteous judgment against sin" in the Tsunami Disaster? Can we not just stand with the victims?
The Gospel, is Absolute Paradox… True power in powerlessness, joy in suffering, winning in losing, living in dying, true wealth in giving our substance away, healing in brokenness, peace as resistance, making friends of our mortal enemies…
There may still be aporias in genuine faith, moments of utter human resourcelessness, emptiness, where my reason is unraveled before the Enigma, the Unreasonable, the Paradox, that cry of anguish in the face of nihilism…
Jesus, the truly Human One… teach us by your Holy Spirit, how to live… to struggle alongside the poor, oppressed, the victimized… and then to die…